BLACKWAKE SERVER HOSTING
We are the #2 Rated game hosting provider on Trustpilot. Our Blackwake server Hosting Prices Are Based On Per Slot Prices, To Make Things Easy For  Comparing And Shoppers We Have Included The Minimum Price Below:
Blackwake
Shiver me timbers finally a ship where you can play out your fantasy of being a pirate (if you so wish). Blackwake is a multiplayer naval focused game based on teamwork to sink your opponents whether that is manning the cannons, repairing the ship or boarding other peoples ships to battle in melee combat.
Get your own server today and become the captain of your own server and ship.
Frequently Asked Questions
We set up servers instantly, as soon as you order you can log in via our 'My Services' tab in the client area. As soon as you place an order, our automated system will create your server, and we will send you an email with the login details, so you have a record. 
If you want to cancel its a very simple process. You can cancel anytime and from the moment you tell us you do not want the server anymore you will not be charged another penny. We have a no quibble cancellation policy.  
We stand by the quality of our Blackwake hosting and the only reason you would want to cancel is that you were no longer playing Blackwake.
Yes. Your server will be online 24 hours a day, 365 days a year. Always online. This is the main reason that clans and communities want to host a game server with a hosting provider. It means they can go about their daily lives and the server continues to run. Power and network are all provided inclusive of the monthly fee, there are no hidden extras.
Our support team is available to you 24 hours a day seven days a week, even on public holidays.  All you need to do is log into the client area and click support tickets. You can also email us; all of the information is on our contact us page.
Our control panel makes it amazingly easy to change your Ark server settings.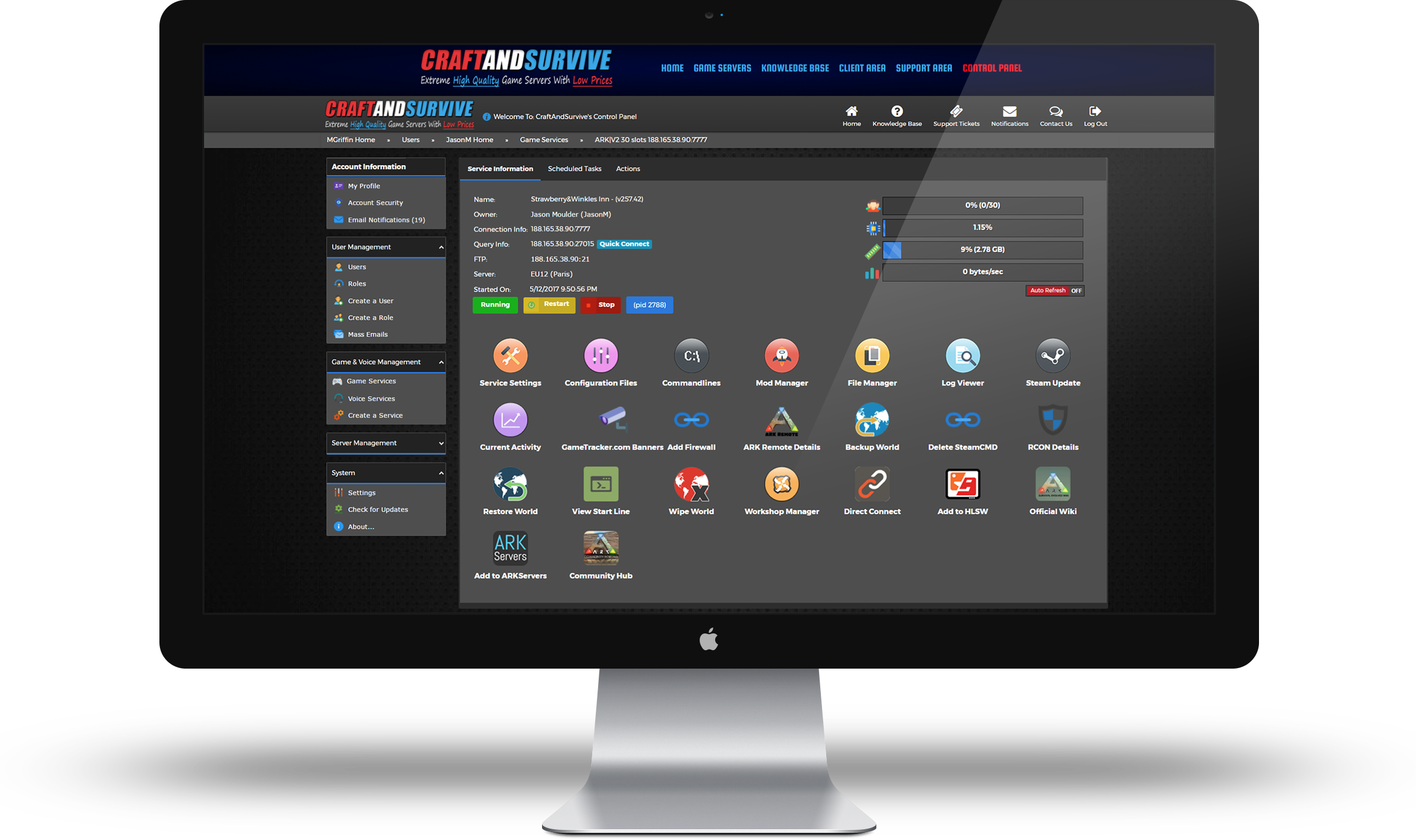 CraftAndSurvive TrustPilot Reviews
Love These Guys!

---
I've used a few different hosting companies for my Ark Servers, but have found my new home. The tech support has been super fast, super helpful and super courteous. Some of the other servers I had would be down for days and tell me there was a DDOS and there was nothing they can do about it. CraftAndSurvive has been very fast to help me with each issue I've had. In my opinion, they have even gone above and beyond on my last issue. These guys are great and I would recommend them anytime.
AMAZING!
---
Honestly the best Ark server i have ever had let alone the professionalism from the workers is through the roof
Any time i need help its an instant response and always helpful I really dont know how i "survived" on other server XD
Craftandsurvive.com is my all time favorite company to go through and i will never change
Simply Amazing Company!
---
I was a complete noob trying to get my server up and running i must have spent most of my time asking support dumb questions , But craft and survives support was helpful took their time and helped me with everything possible and sometimes impossible Low ping no lag i am amazed how good it is And try to find cheaper prices to low price awesome support support usually answers you instantly i can go on and on but you know what try them yourself when you need a server you wont be dissapointed