7 Days To Die Server Hosting
7 Days To Die
Is the highly anticipated online zombie survival game; selling over 2.5 million copies on PC.  7 Days to Die has outclassed most survival game genre, with unrivalled in crafting and building worlds. Set in a time of life where the world is brutally invaded by the living dead, 7 Days to Die is the much talked about, the open world, zombie survival, apocalyptic and role-playing games.7 Days To Die presents many key features such as, mining, crafting, looting, research, exploration, and character growth. Play the much-anticipated game brought to you by sandbox, come see if you can survive Navezgane
Navesgane is a huge world; allowing you to roam the streets and deserts for resources and items to craft aids for survival. Durability will take its effect, repair your weapons, clothes, tools, vehicles and armour in order to maintain hole and not zombie food!.Take over deserted buildings or build-up from the bottom, this is crucial if you fancy surviving night time in Navesgane. Security is most important when building, apply auto-turrets, traps, defensive positions and electric fences in order to survive the hordes.
Work together as a team to build some of the most indestructible settlements or pit yourself against others and take no survivors, raiding other player's bases, it's the zombie apocalypse; there are no rules and the law no longer applies to anyone. Improve your skills in many ways of active and passive methods. 7 Days to Die is one of the only true survival games that contains over 60 skill and perk groups to choose from, making your character fully customizable. Jump into the Navezgane campaign world, or join over with friends to a randomly generated game with towns, lakes, valleys, caves, mountains and wilderness locations. There are over 350 locations making the world infinite at customization.
There are over 50 different types of undead to meet in 7 Days To Die, special infected that have unique attacks, strengths and behaviours. Buildings and terrains can collapse at any given time and can often collapse under their own weight, this is often due to damage to the building and poor planning on the player's behalf. Use Navesgane to your advantage, scavenge the world weapons, tools, clothing, the best guns, armour and clothing.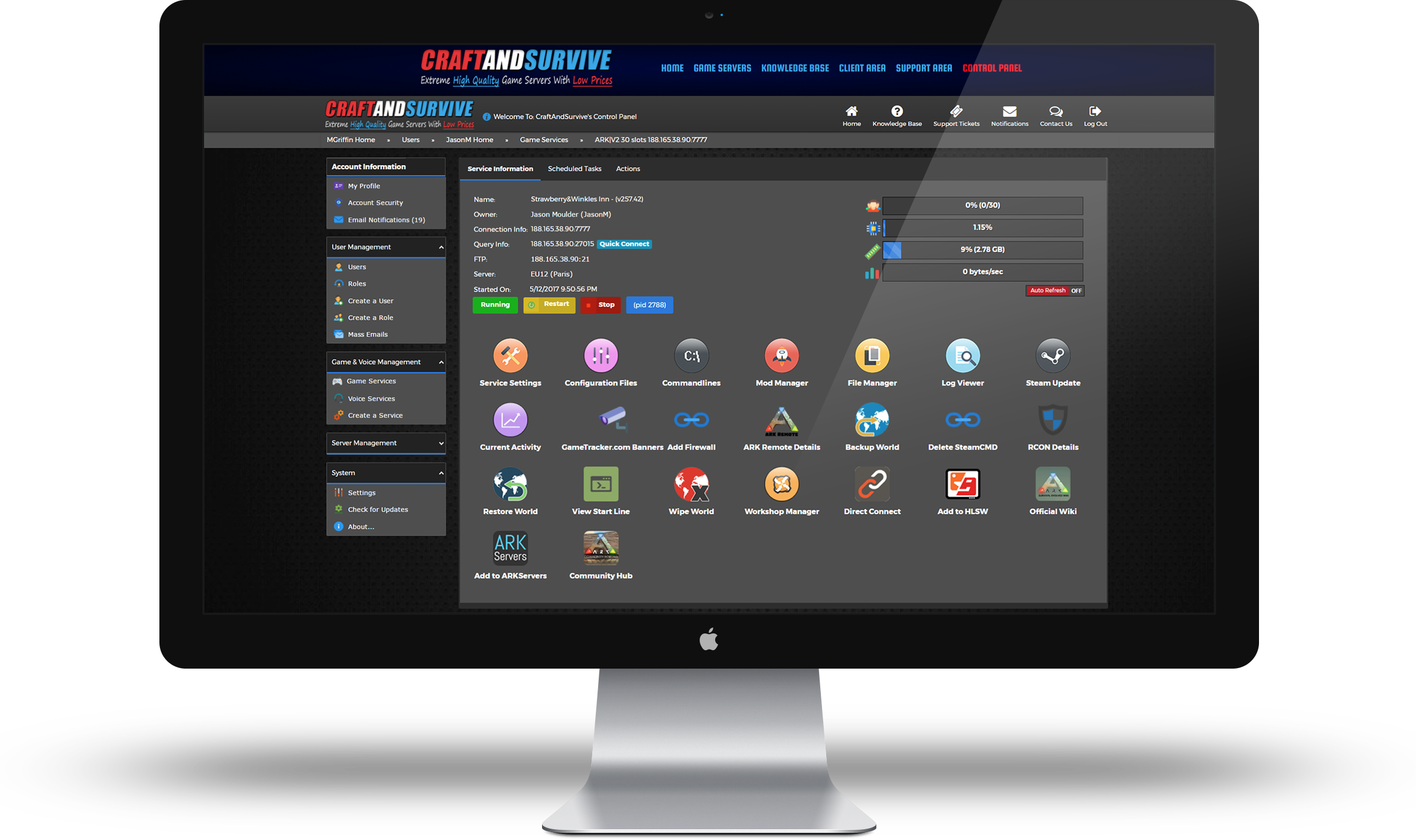 CraftAndSurvive TrustPilot Reviews
Love These Guys!

---
I've used a few different hosting companies for my Ark Servers, but have found my new home. The tech support has been super fast, super helpful and super courteous. Some of the other servers I had would be down for days and tell me there was a DDOS and there was nothing they can do about it. CraftAndSurvive has been very fast to help me with each issue I've had. In my opinion, they have even gone above and beyond on my last issue. These guys are great and I would recommend them anytime.
AMAZING!
---
Honestly the best Ark server i have ever had let alone the professionalism from the workers is through the roof
Any time i need help its an instant response and always helpful I really dont know how i "survived" on other server XD
Craftandsurvive.com is my all time favorite company to go through and i will never change
Simply Amazing Company!
---
I was a complete noob trying to get my server up and running i must have spent most of my time asking support dumb questions , But craft and survives support was helpful took their time and helped me with everything possible and sometimes impossible Low ping no lag i am amazed how good it is And try to find cheaper prices to low price awesome support support usually answers you instantly i can go on and on but you know what try them yourself when you need a server you wont be dissapointed